Our scrapers are already used in many municipal and industrial wastewater treatment plants. Thanks to our stable deck plate design and the modular design, different base and floating scum removal systems can be combined with one another. A later retrofit to the systems is also possible and straightforward, even after many years.
Depending on costumers requirements we use different materials:
Stainless steel and duplex steel:
AISI 304, 321, 316Ti, 316L, 316, 318LN …
S 235, S 355 – hot-dip galvanised or with coating
AlMg1, AlMg3, AlMgSi0,5, AlMgSi1 …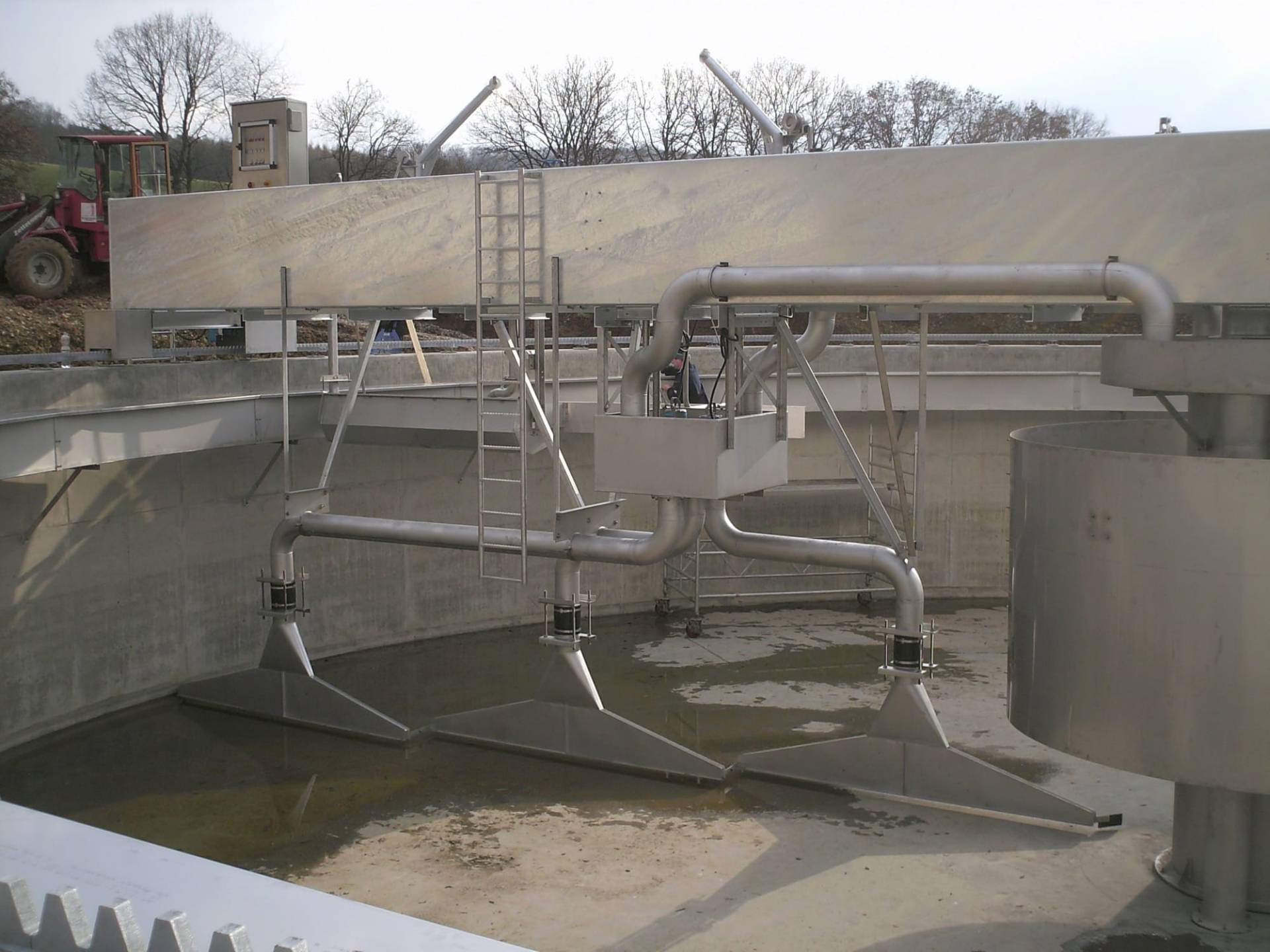 312Rundsaugraumer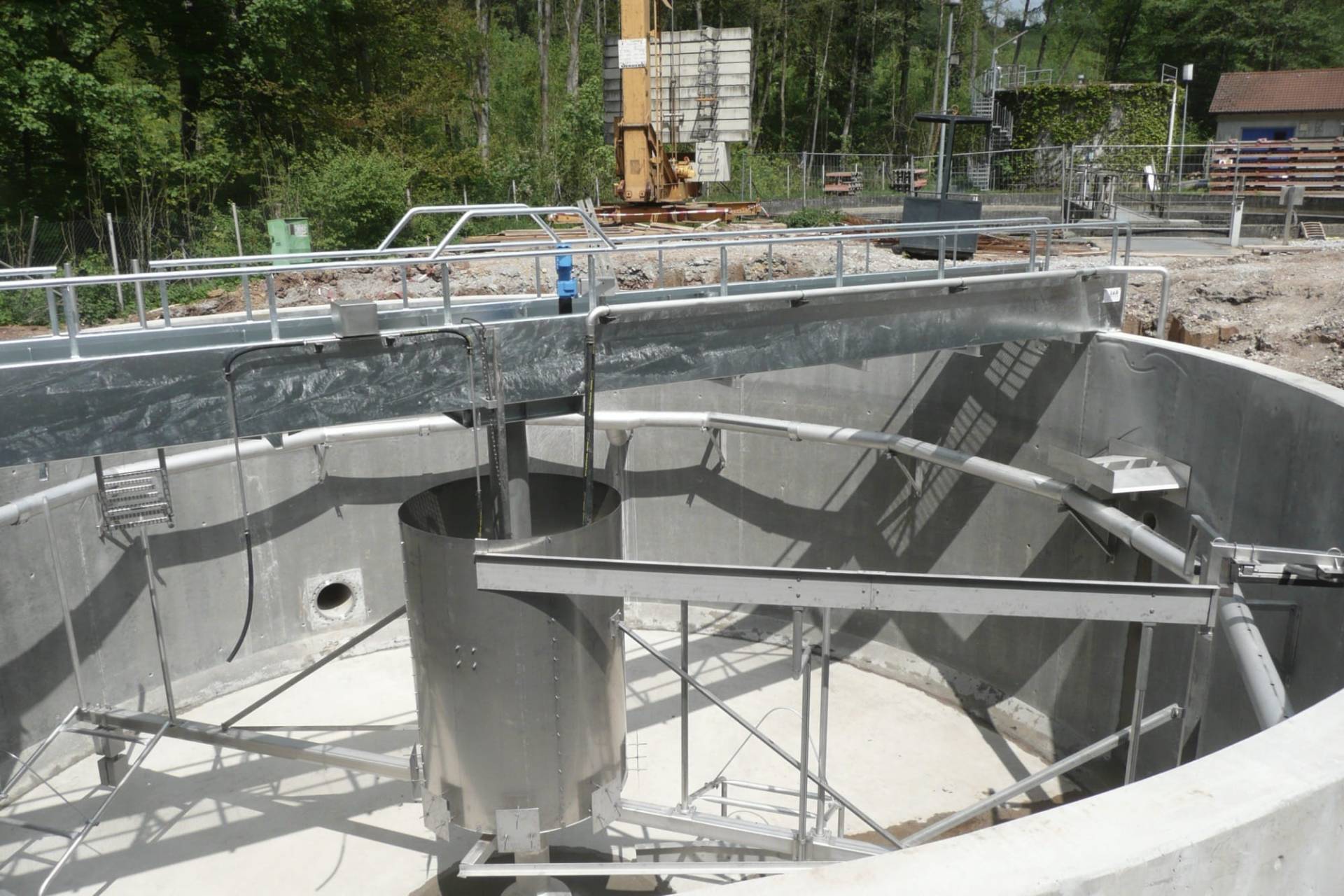 313RundraumermitZentralantrieb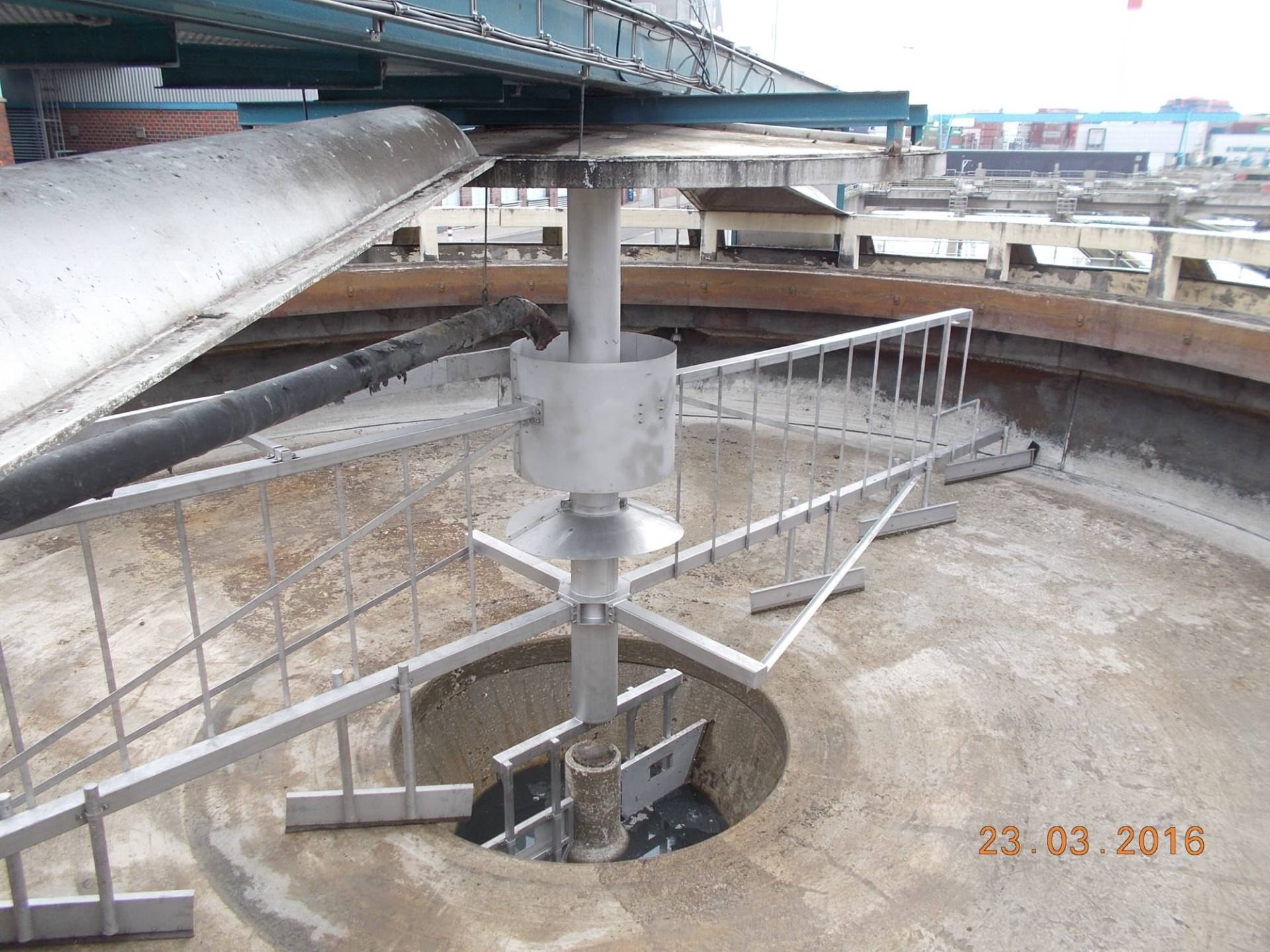 314Krahlwerk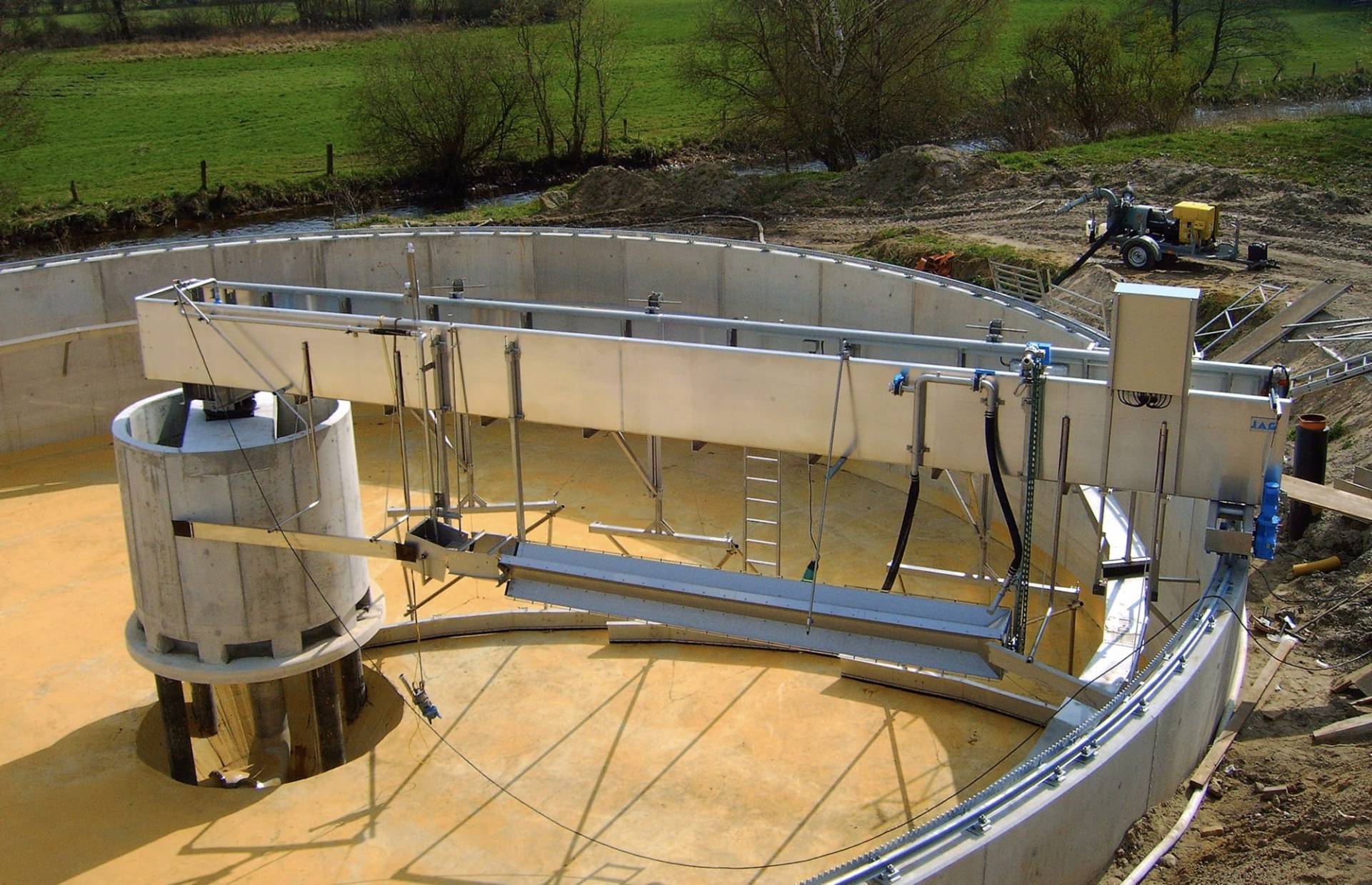 311Rundschildraumer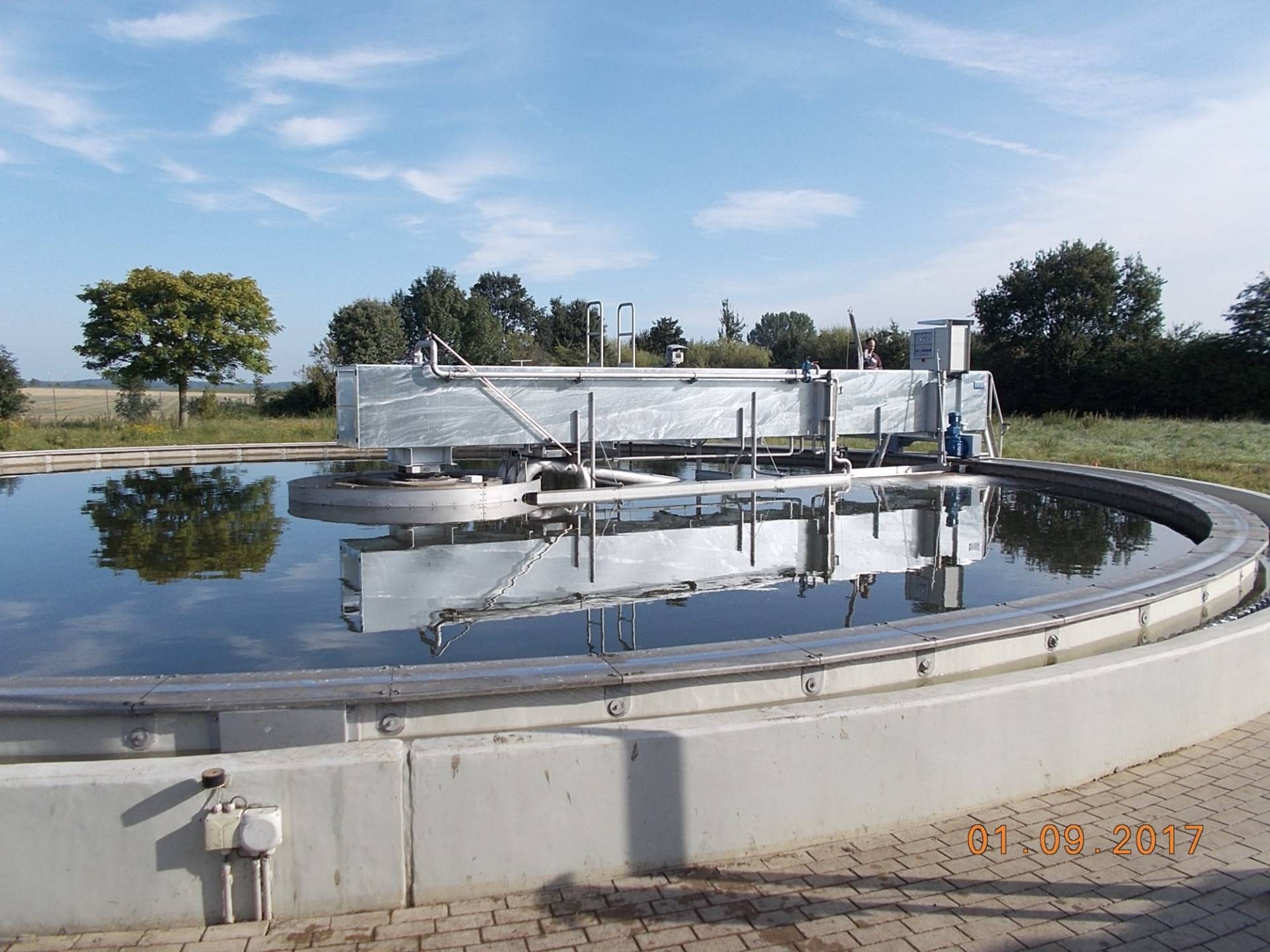 31Rundraumer
Our circular scrapers are supplied as standard with a durable ball rotary collar, high-quality slip-ring assembly and stainless-steel control cabinet mounted on the bridge.
We offer our circular scrapers in the following versions:
The scrapers are designed with rake blades as an approximate logarithmic spiral or as a louvre blade. The blades are executed as a stable plate-edge design and have rubber-wiping blades at the bottom and side as well as water-lubricated rollers, which automatically adjust to the running radius. If desired, the base scrapers can be swung over the water surface by means of manual cable winches. Alternatively, the base scrapers can be made maintenance-free by a rigid attachment to the bridge.
Possible base scraper versions:
Logarithmic spiral or louvre blade
Swingable (non-wearing) or towed (with rollers)
Removable
With or without wear notification
All scrapers can be fitted with wheel drive units with rubber, Vulkollan® or a positive drive system (pinion, rail and gear rack).
Every scraper system can be combined with any floating scum scraping system. Paddle unit, automatic skimming drain, guidance plate with stationary collecting chamber or other agreed systems are possible.
Rotary scrapers with central drive:
Our longitudinal scrapers for use in grit and grease chambers, clarification tanks or sedimentation basins are supplied as standard with stable guidance systems, power supplies and a stainless steel control cabinet mounted on the bridge.
We offer our longitudinal scrapers in the following versions:
Grit chamber scrapers can be designed with or without grease scraper system. The grease scraper system can be designed with manual or automatic lifting gear. In addition, all grit chambers can be designed as plate or suction scrapers. Use on covered tanks is possible for all systems.
Possible base scraper versions:
Grit scraping system with pump or mammoth lifter.
Pump rigid with flexible suction hose or deflection for sand mound detection
Swivelling base scraper with lifting device
All scrapers can be fitted with wheel drive units with rubber, Vulkollan® or a positive drive system (pinion, rail and gear rack).
Longitudinal suction scrapers: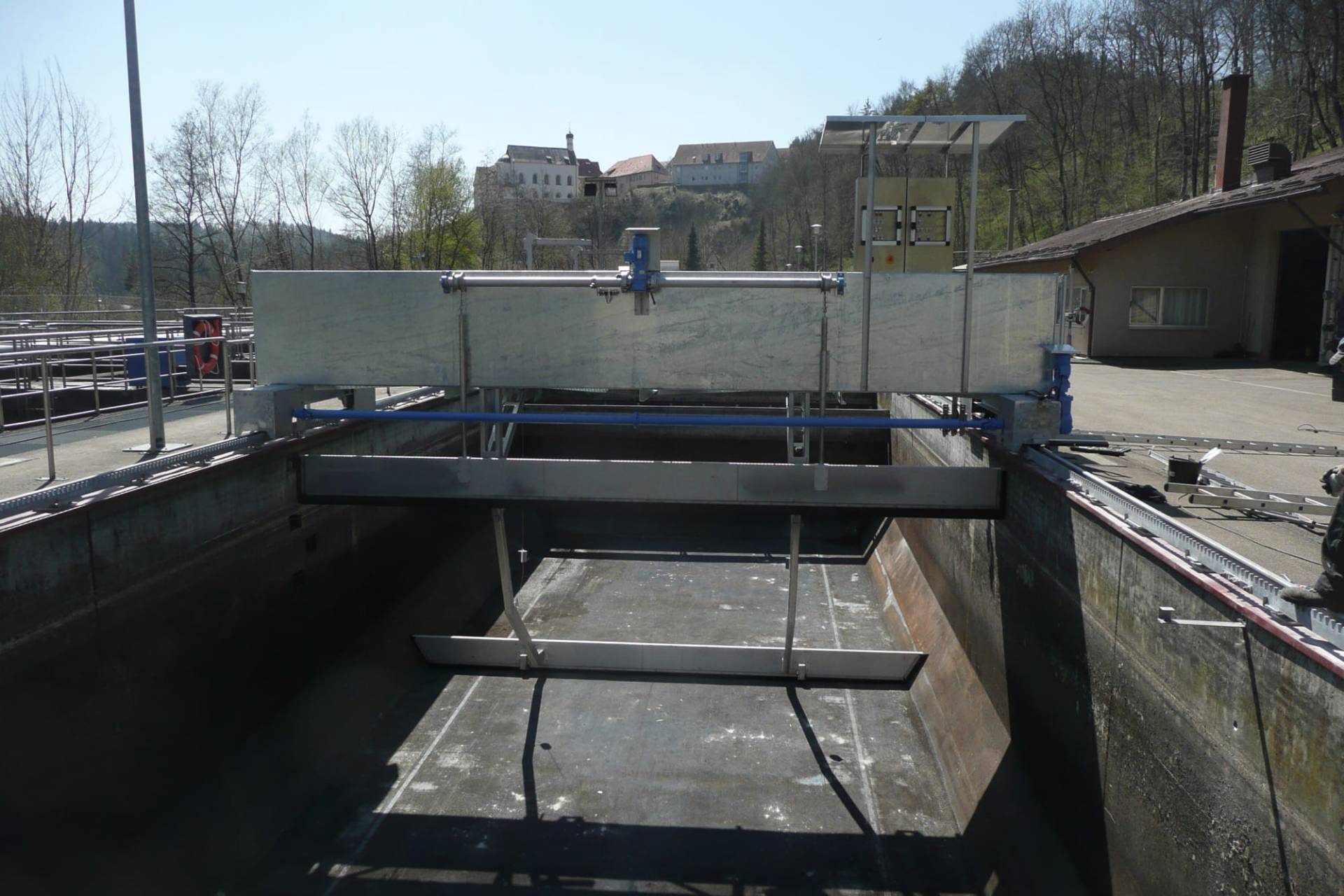 322Langsschildraumer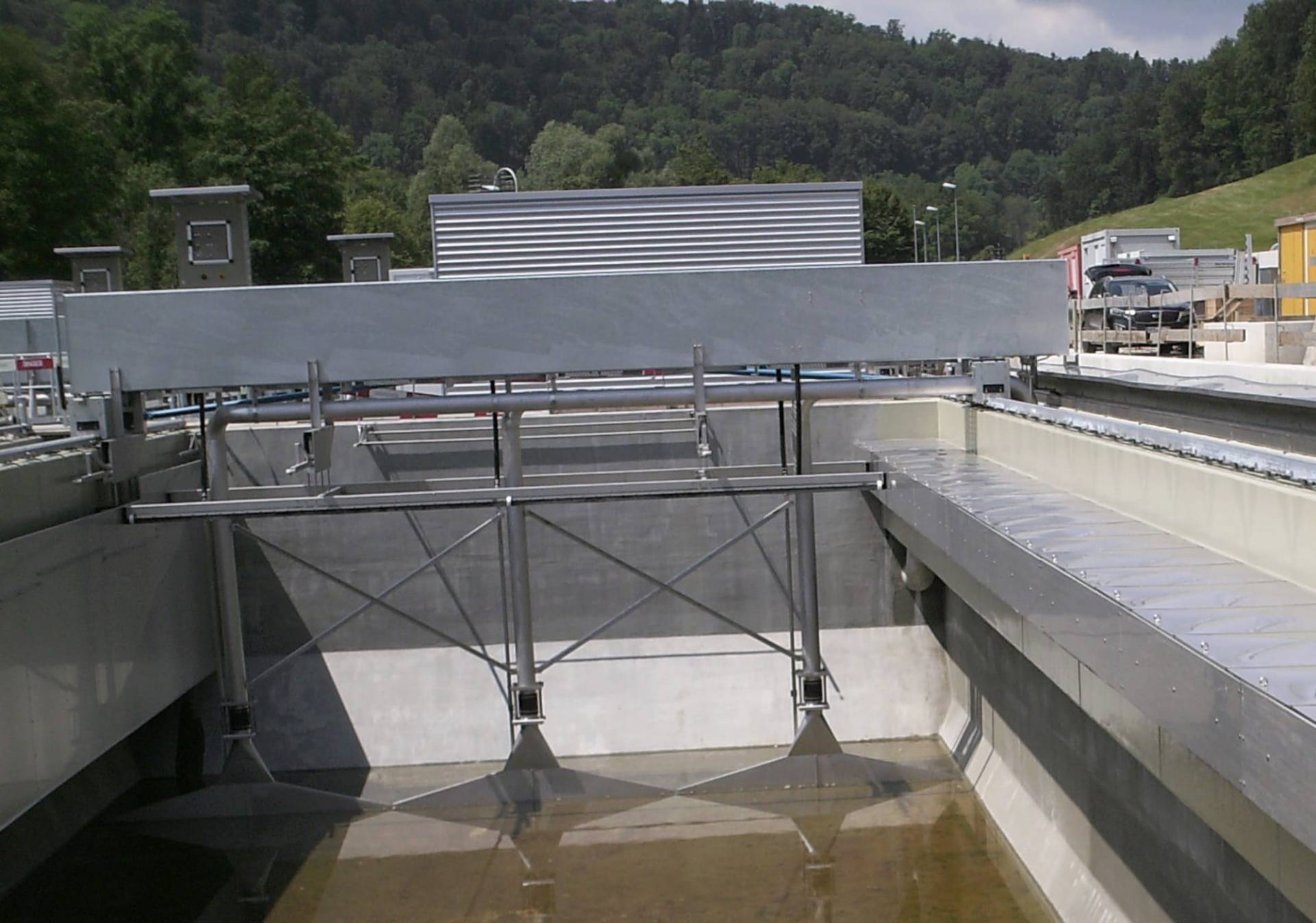 323Langssaugraumer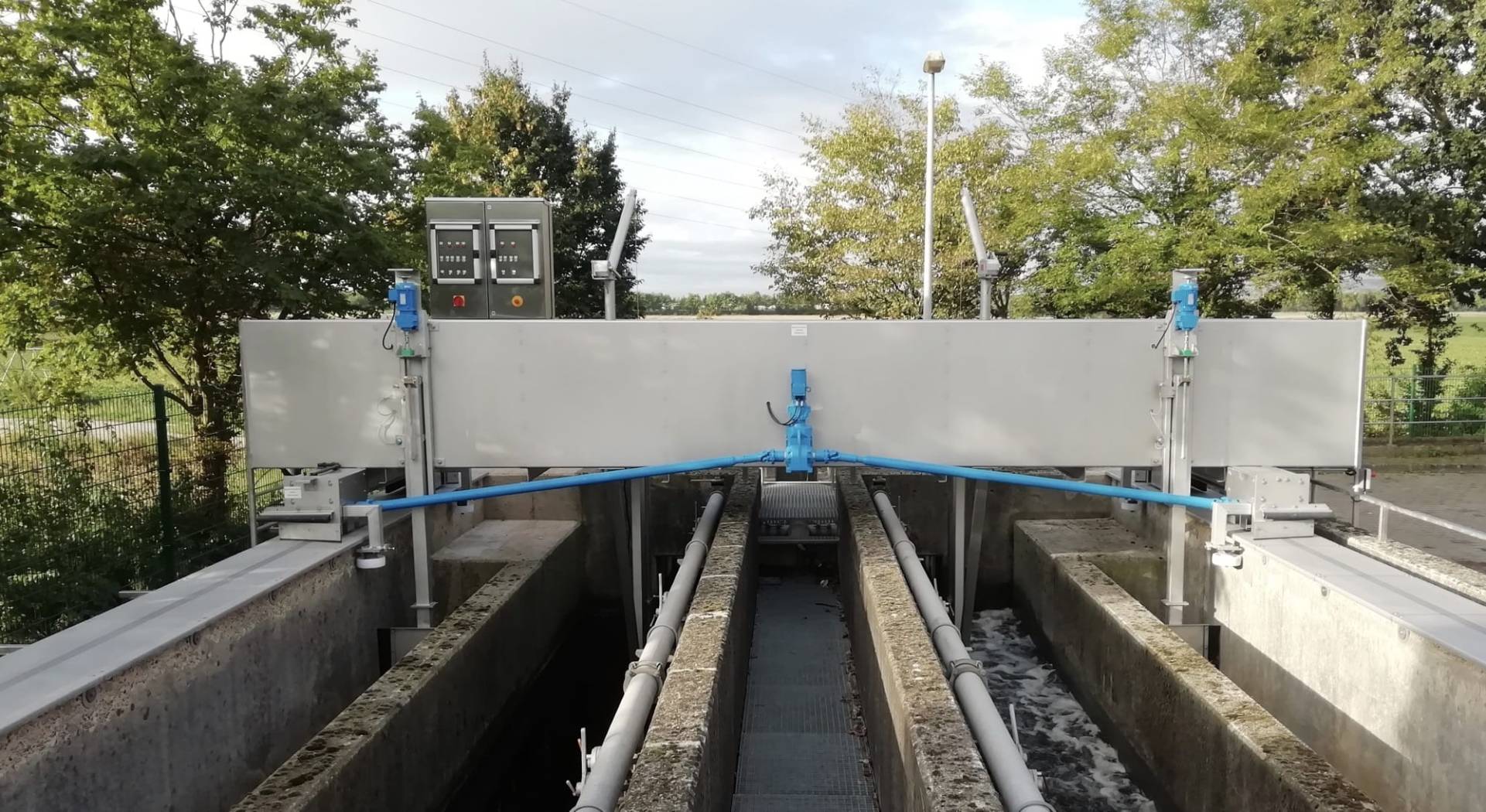 321Sandfangraumer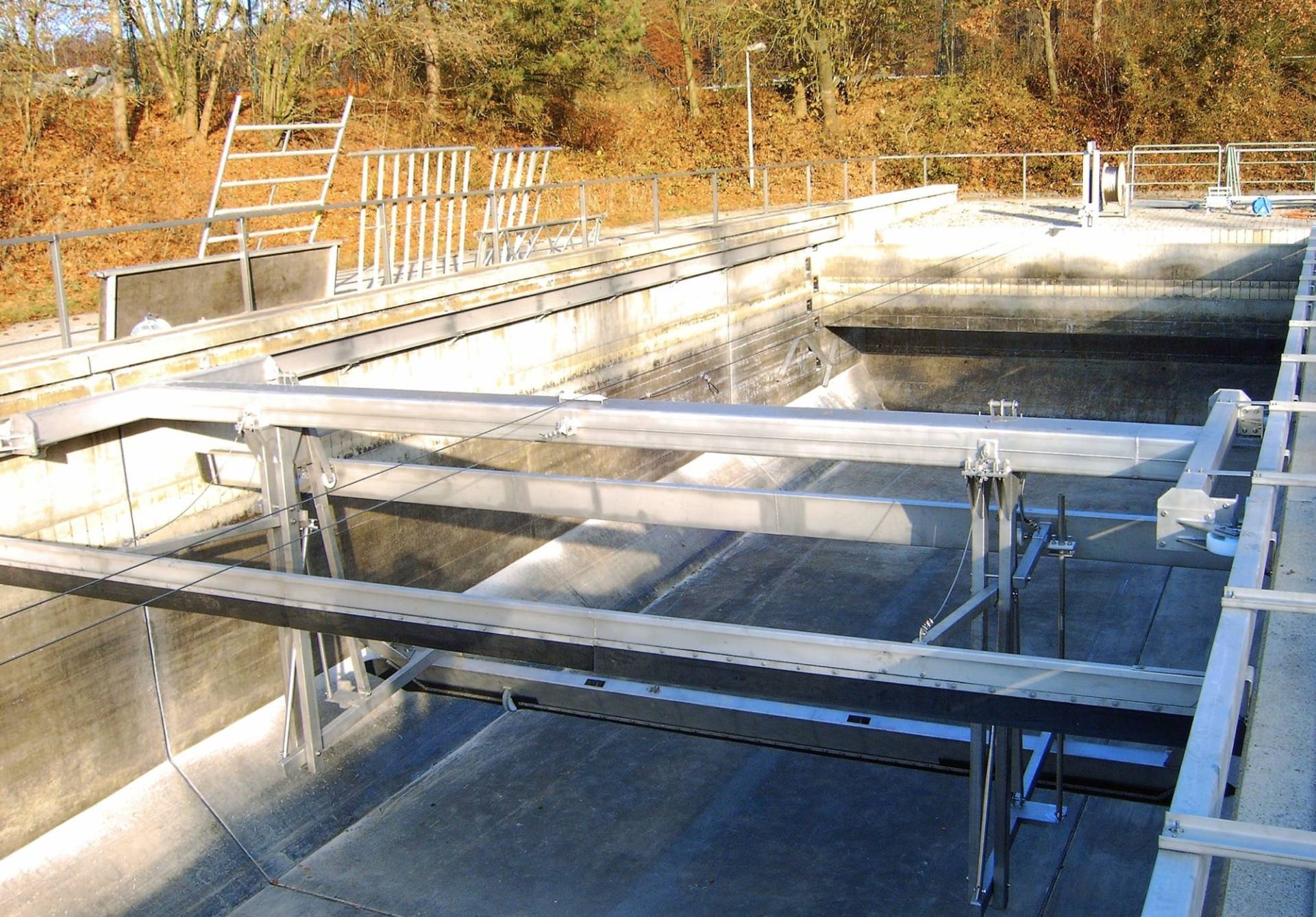 325Seilzugraumer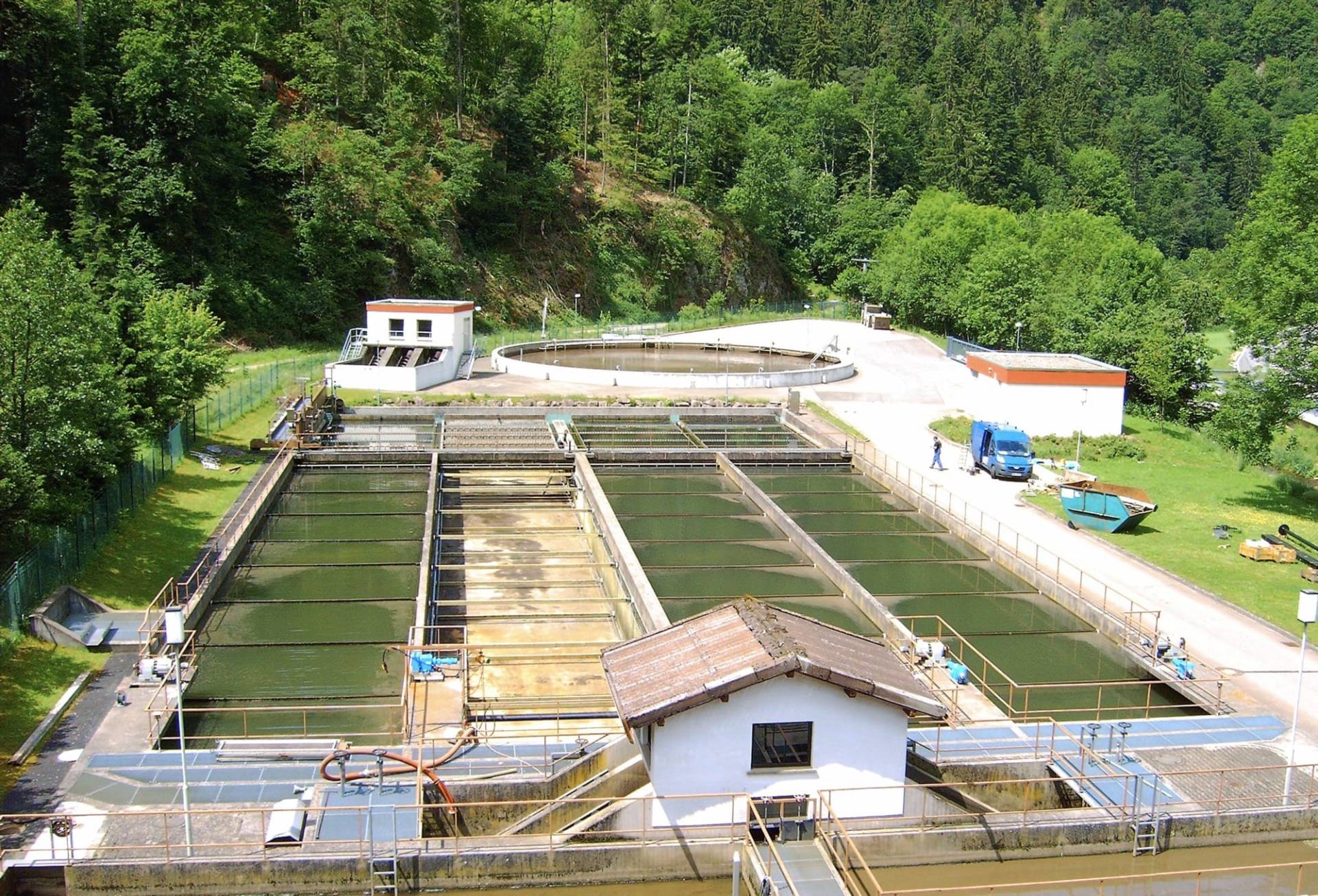 324Kettenraumer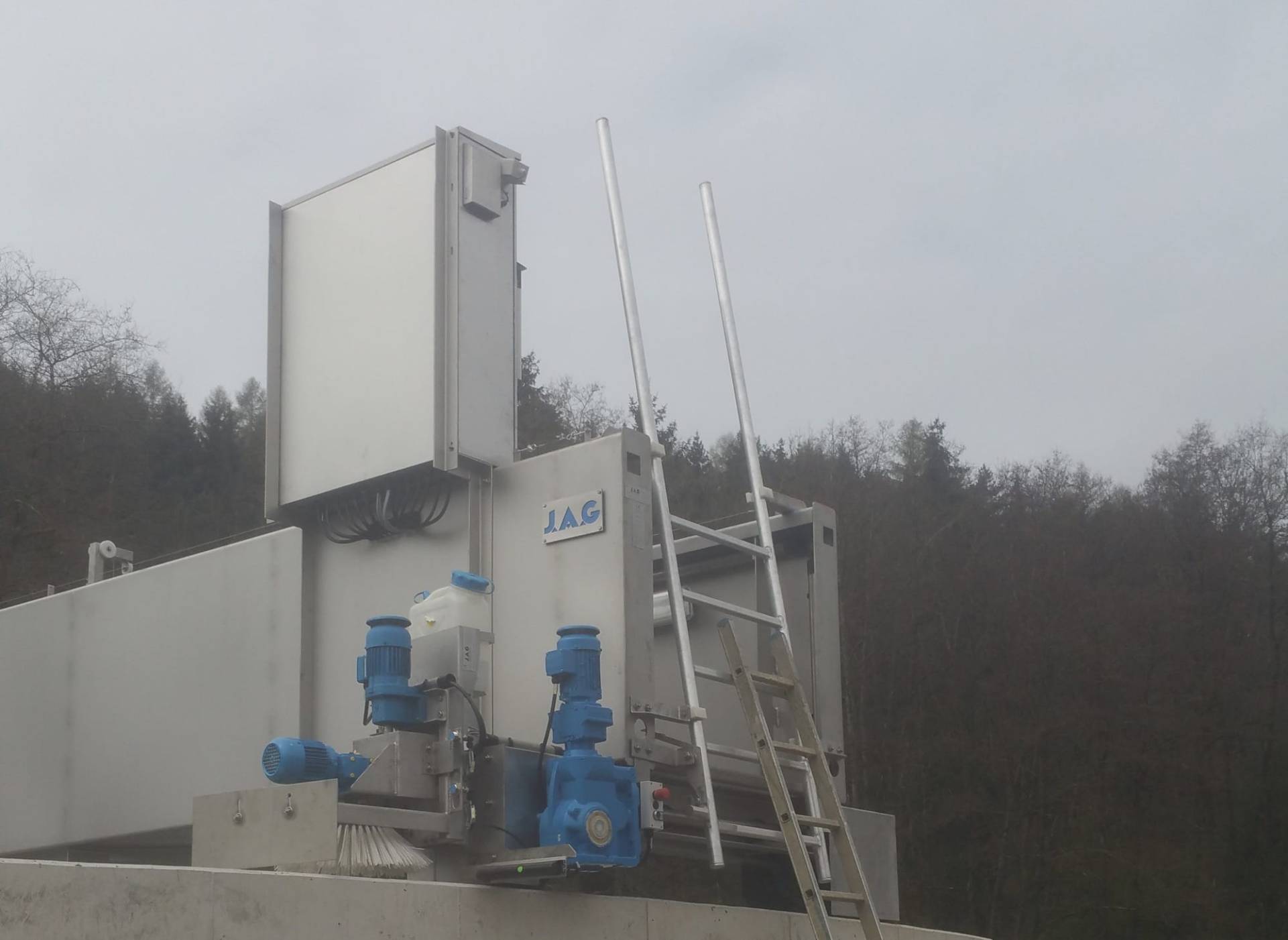 335Fahrbahnreinigungs-undEnteisungsgerate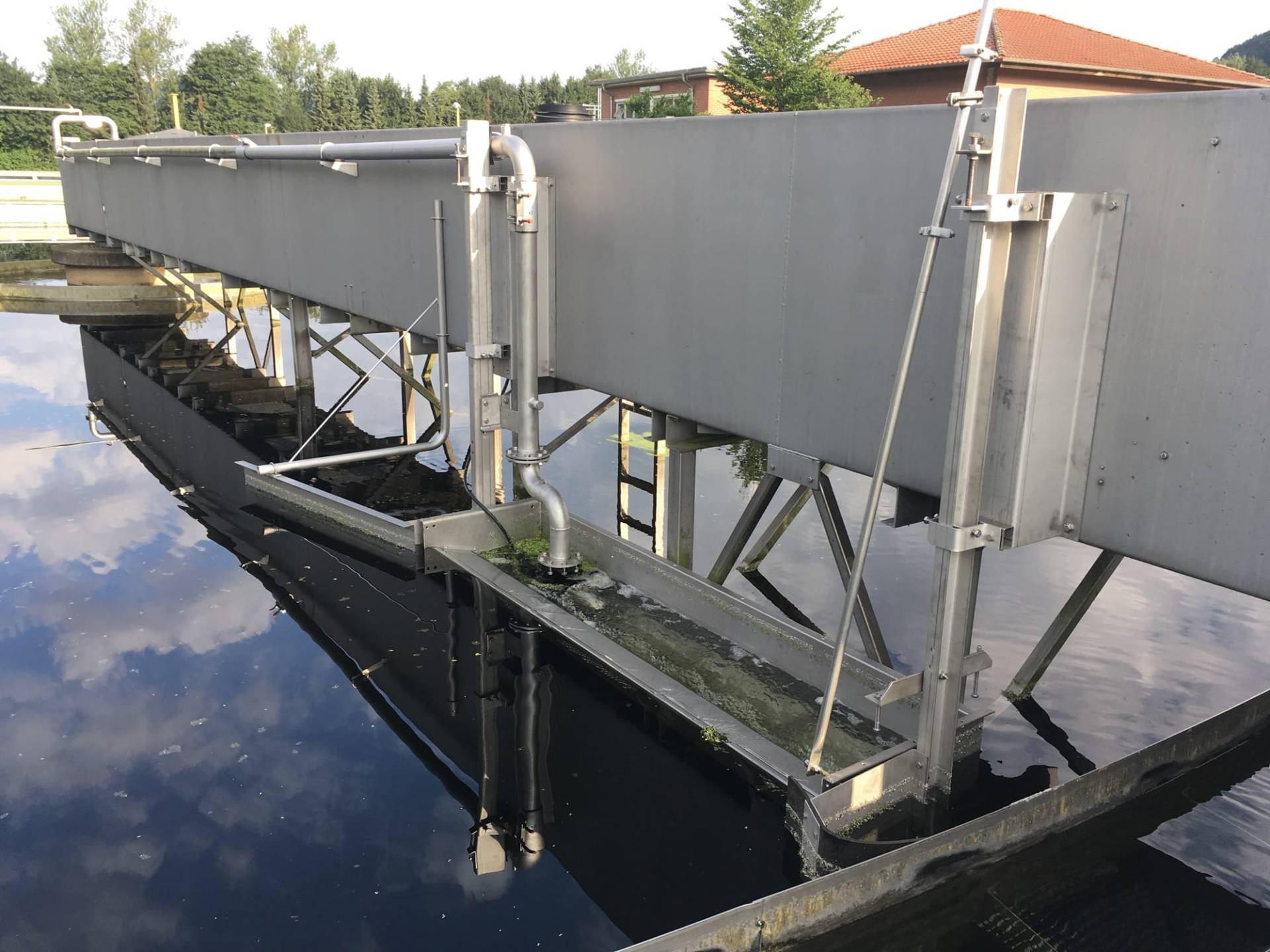 331AutomatischeSkimrinnefurRundraumer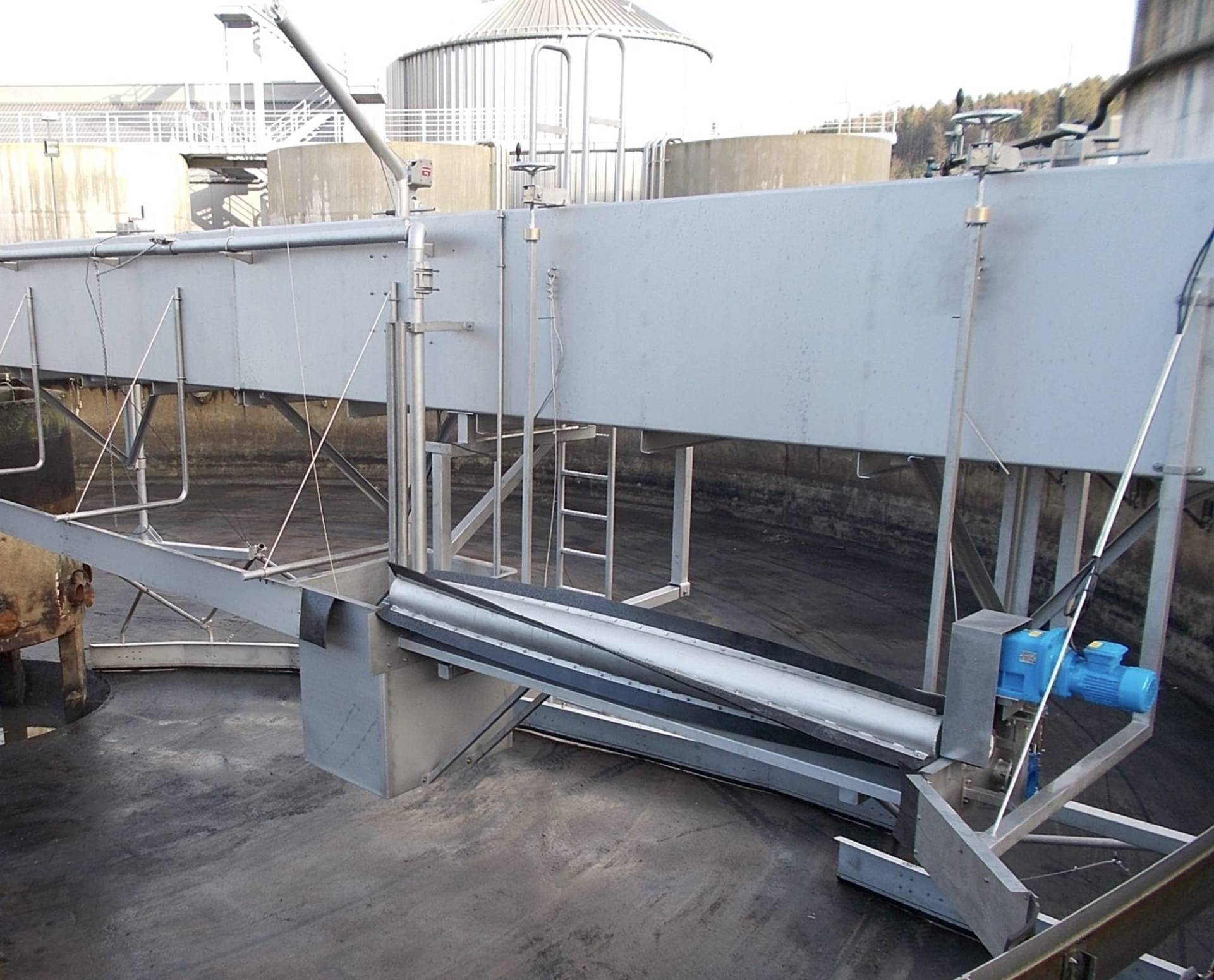 332PaddelwerkfurRundraumer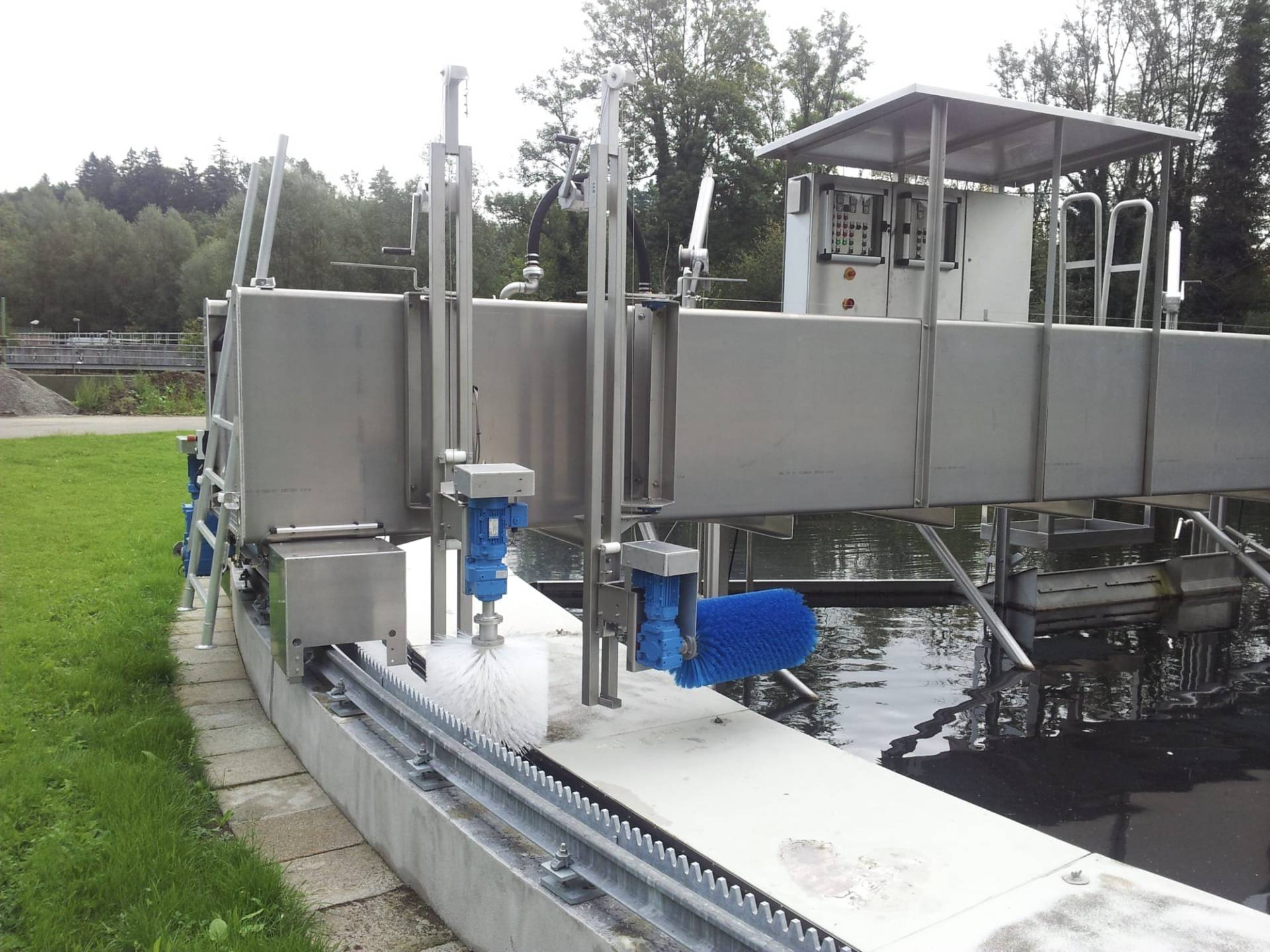 333Rinnenreinigung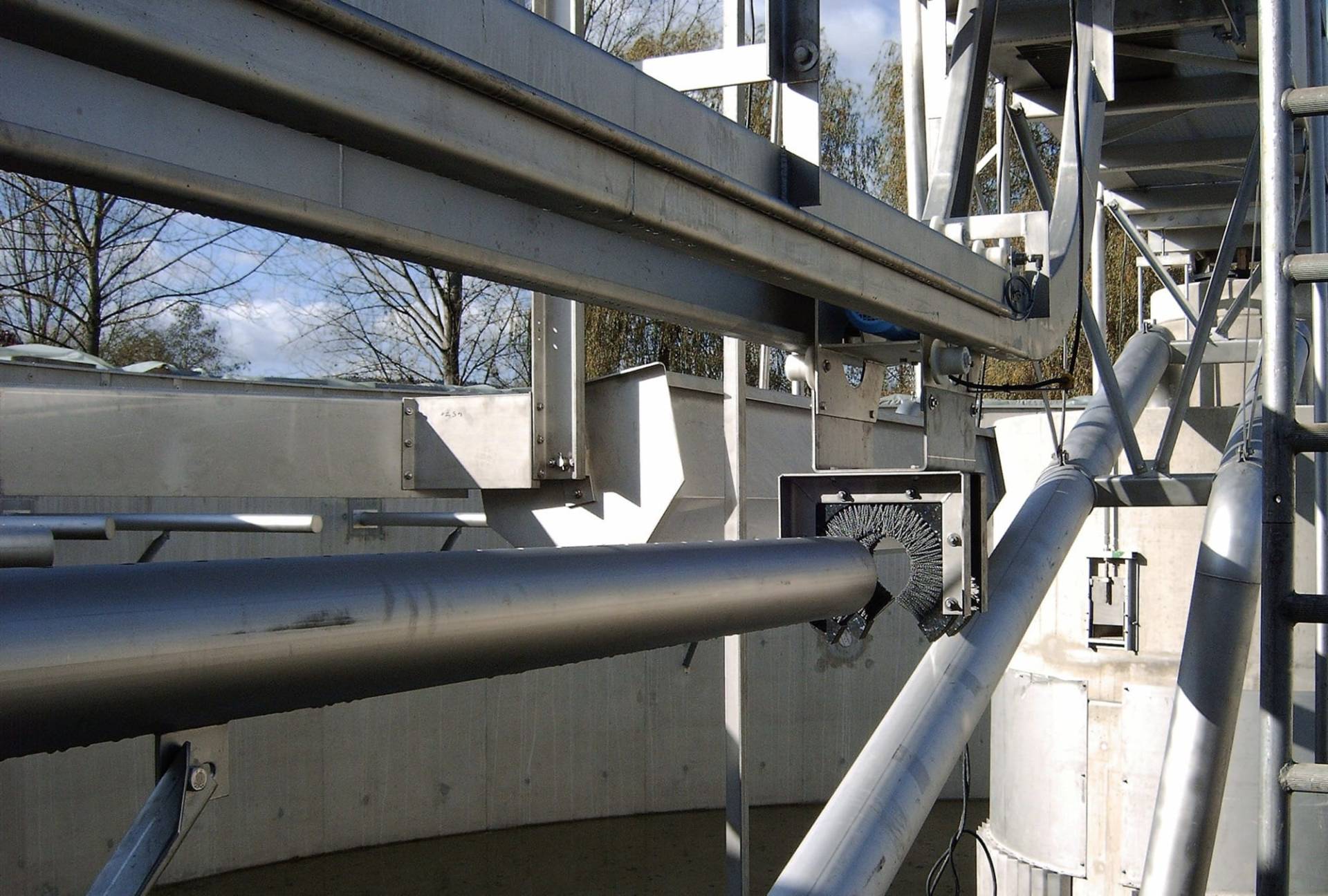 334AutomatischesReinigungsgeratfurKlarwasserabzugsrohre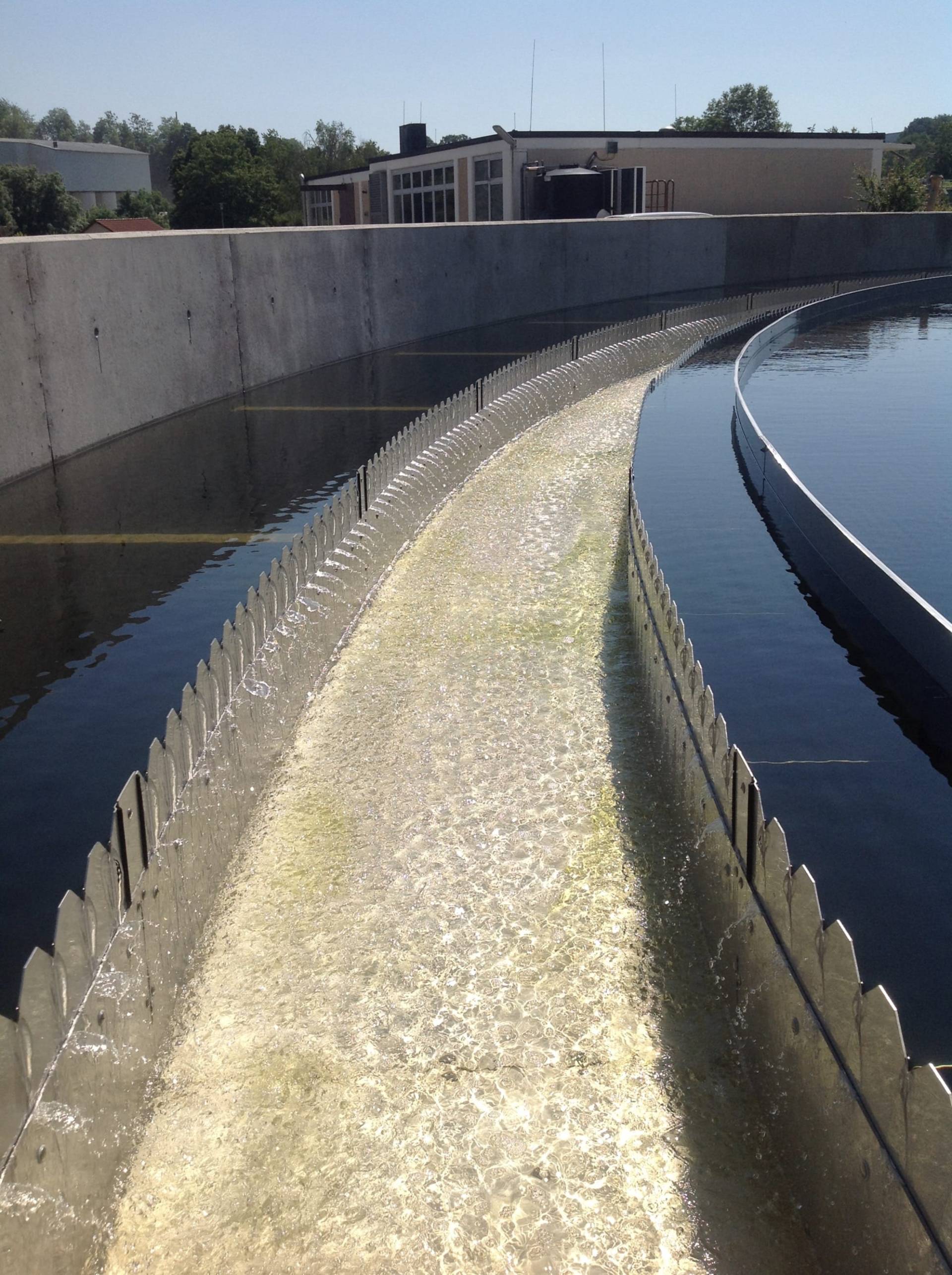 336Hebevorrichtung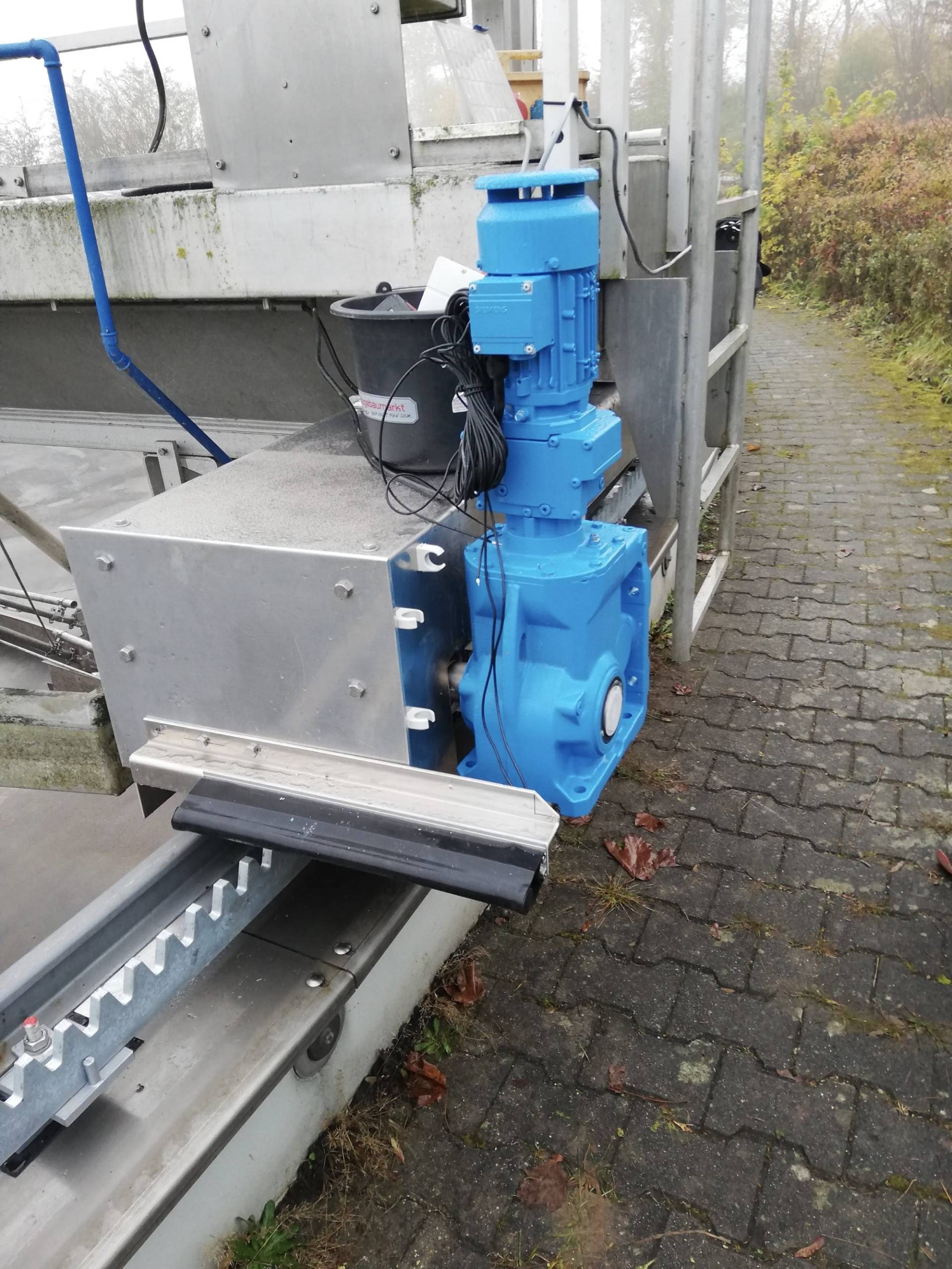 337ZwangsantriebSystemSchiene-Zahnstangen-Anlage
Scraper components and tank equipment
We offer various scraper and tank components for proprietary and third-party equipment.
Automatic skim drain for circular scrapers
The fully automatic skim drain uses a float to always adjust to the current water level of the tank. This ensures that the skim edge has a constant depth of immersion and that the water component in the skim drain is minimised. The pump is controlled as a rule via a stop-start cycle control in the control cabinet.
As an option, the system can be supplemented by a floating scum detector in order to further optimise the extraction of floating matter.
Floating scum removal system specifications:
Floating scum skim drain, l = 2.5 m, when removal system is operating automatically adjusts to the water level of the secondary sedimentation basin.
Submersible pump Q = 10 l/s
Stripper for baffle side and small, rigidly fixed feeding scraper inside
Materials: Construction parts, wetted, made of stainless steel 1.4571
Paddle unit for circular scrapers
Automatic cleaning device for wastewater drainpipes
Track cleaning and de-icing devices
Pinion-rail-gear rack positive drive system
Wastewater treatment extraction systems
... and much more ...
Naturally, we also produce special solutions based on your ideas.
Please feel free to contact us with any queries!